Super Bowl LVII – The Kelce Bowl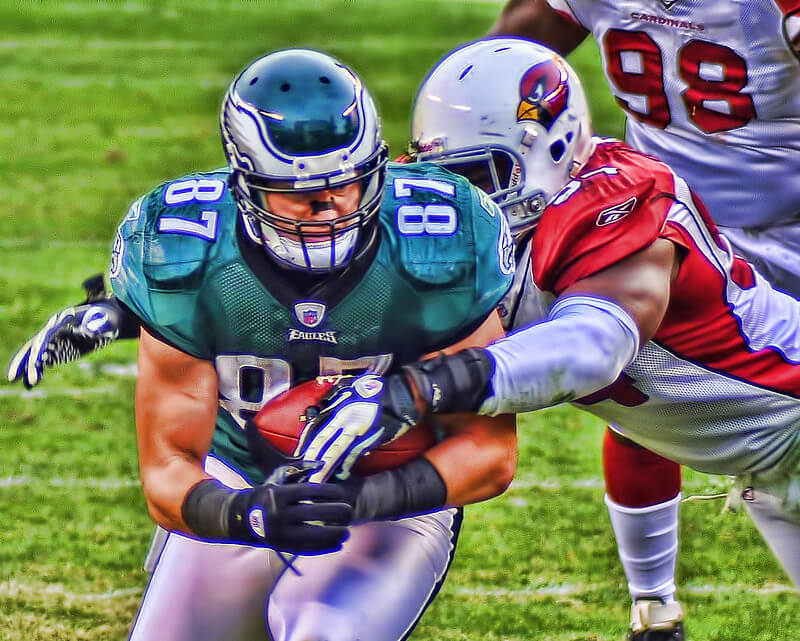 Veteran center Jason Kelce and his aptly named "city of brotherly love" compatriots have already jetted off to Glendale, Arizona.
We already know the Eagles will be running plenty of tape on standout tight end Travis Kelce and the offensive powerhouse of the Chiefs/Mahomes era.
Both were previous winners with their respective teams, but who will be victorious in 2023?
BetPhilly looks at the facts and throws down some insight to help explain why Super Bowl LVII, or "The Kelce Bowl" to many, is the must-watch event of the year.
Latest Super Bowl LVII Betting Odds
In their previous visit to the main stage, the Eagles found themselves plucky underdogs against a Brady-led Patriots team that had seldom experienced failure in their many trips to the Super Bowl.
This year they edge the odds, albeit by fine margins, so will the weight of pressure alter the mentality of Sirriani's men?
Latest Super Bowl LVII Betting Odds
Philadelphia Eagles to win: -125
Kansas City Chiefs: +105
MVP Winner:

Jalen Hurts: +125
Patrick Mahomes: +130
Super Bowl Prop Bets to Look Out For
Our three best betting picks for the super bowl final:
Sanders anytime TD and 50+ rushing
Jalen Hurts for the first TD
Kelce to go over 100 yards + anytime TD
The Eagles rushing game has been one of the safest bets in town since the season began. However, you find yourself spoilt for choice as to who you might bank on, with Boston Scott, Miles Sanders, and Kenneth Gainwell all finding the red zone this postseason:
Sanders found double figures in the regular season, so a bet on an anytime TD and 50+ rushing might look tempting.
The infamous "Eagles QB sneak" has proven an unstoppable force throughout the season. So, we feel that a bet on Hurts looks like a profit-making opportunity:
Dollars on Jalen Hurts for the first TD might be a banker.
Lastly, we have pinpointed the tight ends, which have played a pivotal role in both offenses all season, but a bet on Kelce stands out:
Kelce to go over 100 yards might provide longer odds than any other bet on the Chiefs' target man. Over 100 yards and an anytime touchdown is an attractive proposition.
Road to the Superbowl
The Eagles' postseason has looked a lot like their regular season in that they have made it look far easier than most.
The demolition of NFC East rivals, the New York Giants, was as impressive as it was expected. The third-best defense of the regular season for yards allowed held the Giants to a meager seven points in the Divisional round.
It was a similar story on Championship Sunday as the 9'ers failed to register more than a single touchdown against a rampant Eagles pass rush. Most notably, a two-sack performance from postseason juggernaut Haason Reddick.
Philadelphia were equally as dominant on the other side of the ball. The return of Jalen Hurts from injury bolstered a run-heavy offense that accumulated four touchdowns on the ground.
They made light work of a D that averaged less than 80 rushing yards per game all season.
Their opponents this year are no strangers to recent SuperBowl success. Mahomes and Reid hold an impressive 10-3 postseason record over his five years starting under center. The team returned the Lombardi to Kansas in 2020 for the first time in 50 years.
The Chiefs' 7000-yard regular season offense will be a force to contend with, with few names more problematic than that of Mahomes' favorite target Travis Kelce. Two touchdowns from Kelce sealed a 27-20 divisional victory over a tenacious Jaguars side.
That familiar name found himself in the endzone again in another battle against more familiar opponents, the Cincinnati Bengals, in the Conference Championship.
It's all set up for a showdown that, for many, will be tough to call. So, let's look a little closer at the head-to-head.
What to Expect on the Big Day
The two most high-powered offenses of the regular season and two of the most exciting quarterbacks in the game right now come face to face. History shows that these are not always the easiest games to predict.
The Chiefs edge the series by 5-4 but may not roll up as favorites on Sunday night. There are key areas to consider despite being backed to win in this same fixture on the last three occasions, most recently in a 42–30 win in 2021.
The Eagles haven't mustered a victory against their SuperBowl opponents since Kevin Kolb quarterbacked them to a 34-14 win back in 2009. Still, the Eagles roster in 2023 has looked unstoppable at times.
Their only notable loss with Hurts at the helm came in a November divisional shock at the Linc against the Commanders.
Important Super Bowl Team News
Although both NFL teams have had to use backup quarterbacks at some point this season, the health of Mahomes and Hurts will be integral to how this game develops.
Mahomes' mobility was tested after picking up a high ankle sprain in their divisional round defeat of the Jacksonville Jaguars. It reduced his dependency on movement outside of the pocket against the Bengals.
However, in true Mahomes fashion, he still found a way.
Jalen Hurts is no stranger to injury himself after a late-season shoulder injury to his throwing arm left the Eagles talisman sidelined for a couple of weeks.
Hurts has proved almost unstoppable as part of an Eagles offense that looks as capable on the ground as they do through the air.
Hurts has been breaking multiple records over the regular season, including the new single-season record for most rushing touchdowns, previously held by Cam Newton since 2011.
Will the Eagles' Experience Be the Deciding Factor?
The Eagles' experience in their defensive line and particularly their pass rush have proven too much for almost every adversary throughout the season. Their regular season D-ranking far surpasses the Chiefs in all measures.
Orlando Brown Jr and co may find a means of containing the imminent threat from the likes of Brandon Graham and Fletcher Cox. But the rejuvenated Philly secondary can limit the deep ball threat we have seen so often from this Chiefs offense.
BetPhilly's Final Word
Millions of NFL fans will be aiming to predict the outcome of Super Bowl LVII, but what about the impossible situation of Donna Kelce?
The mother of the Kelce brothers was asked who she would be rooting for in Super Bowl LVII. She declared "the offense."
It seems likely that both her sons will play a similarly pivotal role as they have done season-long, becoming the first brothers to meet in a Super Bowl in history.
Both teams have known recent Super Bowl success. The last time we saw the Eagles on center stage, we were served up a Philly special that caught everyone off guard.
The NFC #1 seed is our favorite to walk away from the Arizona desert victorious.