DraftKings Sportsbook review Pennsylvania
DraftKings Sportsbook Pennsylvania was launched in November 2019 through a partnership with Penn National Gambling, and it quickly rose to prominence afterward.
DraftKings is an industry giant because it has consistently proven its ability to satisfy bettors in the states in which it is licensed to operate.
DraftKings Sportsbook PA provides bettors with various games to wager on, as well as attractive odds and bonuses to keep them returning to its platform.
In this DraftKings review, we will look at how DraftKings PA works, what bonuses it offers, how you can take advantage of them, and why the sportsbook might be the ideal one for you.
DraftKings Sportsbook PA Welcome Bonus
DraftKings offers a welcome bonus of up to $1,000 upon successful registration and a deposit of $5 or more. The total bonus amount is equal to 20% of your first deposit.
You can find up-to-date information about DraftKings Sportsbook PA's welcome bonus on the "Promos" page before your registration, or on the "Promotions & Offers" page in the DraftKings Help Center.
Make sure to check that the bonus is available in the state you are playing from.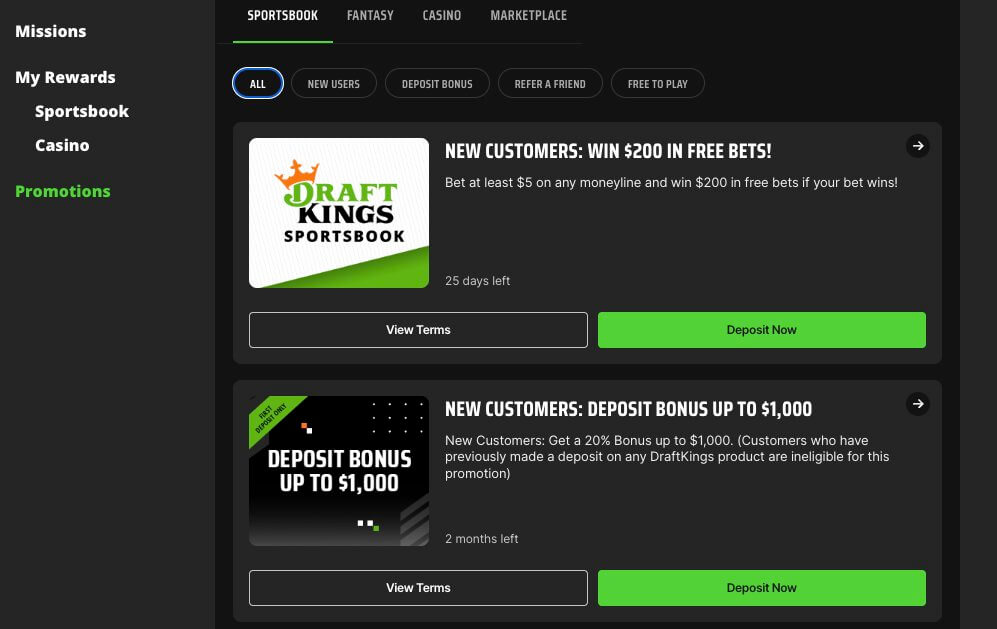 Wagering Requirements
DraftKings does not release the total bonus amount instantly. Instead, the bonus award follows DraftKings' play-through requirement: the sportsbook awards you $1 in bonus funds for every $25 you wager on the sportsbook (-300 odds or longer) in the first 90 days.
The bonus offer is really good for players that like to bet with low risk. To clear the maximum bonus value for your first deposit all you have to do is bet your first deposit amount 5 times on a lowest odds of -300. Remember to use the promo code "WIN" when you register.
Example: If you make a first deposit of $250, you are eligible to receive a $50 welcome bonus. However, you will have to wager your initial $250 deposit five times to claim the total bonus. See example below:
| | | | |
| --- | --- | --- | --- |
| Deposit | Your maximum bonus | Wagering requirements | Your bonus value |
| 5000$ | 1000$ | 25000$ | 1000$ |
| 1000$ | 200$ | 5000$ | 200$ |
| 200 | 40$ | 1000$ | 40$ |
The Betphilly team recommends you to clear the bonus in the best optimal way, and don't take any big risks. Below you can see a simulation on how much you account balance will be after clearing the bonus offer in the best possible way with lowest risk:
| | | | |
| --- | --- | --- | --- |
| Deposit | 5000$ | 1000$ | 200$ |
| Max bonus | 1000$ | 200$ | 40$ |
| Bet 1 | Bet 5000$ on -300 odds | Bet 1000$ on -300 odds | Bet 200$ on -300 odds |
| Bet 2 | Bet 5000$ on -300 odds | Bet 1000$ on -300 odds | Bet 200$ on -300 odds |
| Bet 3 | Bet 5000$ on -300 odds | Bet 1000$ on -300 odds | Bet 200$ on -300 odds |
| Bet 4 | Bet 5000$ on -300 odds | Bet 1000$ on -300 odds | Bet 200$ on -300 odds |
| bet 5 | Bet 5000$ on -300 odds | Bet 1000$ on -300 odds | Bet 200$ on -300 odds |
| Total win | 8250$ | 1650$ | 330$ |
| Bonus cleared | 1000$ | 200$ | 40$ |
| Total balance | 14250$ | 2850$ | 570$ |
Do I Need a DraftKings Promo Code?
According to Draftkings homepage you should use the promo code "WIN" to entitled for this bonus. Sometimes, however, you get the bonus by just registrating. But don't chance, use the promo code to be 100% certain of getting this deal.
DraftKings Review: Site Features and User Experience
The website interface is simple and intuitive. The home screen is a command center with well-placed menus that allow you to easily navigate the platform to use its features.
When searching for leagues and sports to bet on, all you need to do is check the side menu on the left. It contains links to the most popular leagues on DraftKings Sportsbook, sports teams, a list of all the sports on the platform, and more.
Once you have found a game you want to wager on and you select a betting option, the bet slip, which is available on the right side of the screen at all times, is updated instantly, allowing you to input the amount you want to bet and lock-in your bet on the spot.
DraftKings has designed its website and app so well that you will scarcely need to open more than three pages before finding whatever you are looking for on the site.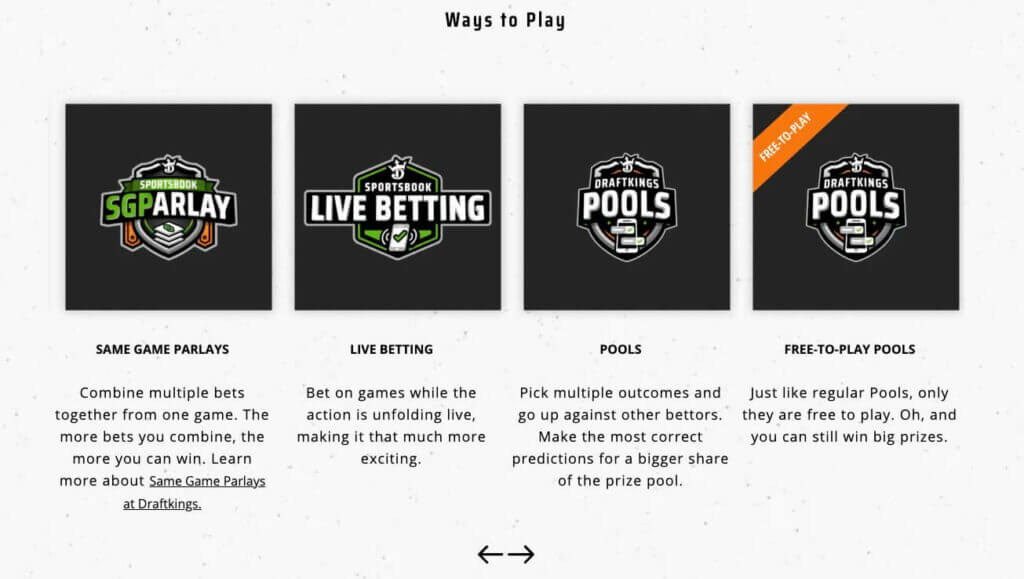 DraftKings Review: Deposits and Withdrawals
DraftKings offers multiple withdrawal and deposit options for its sportsbook, so you are sure to find a payment method you are familiar with.
Depositing on DraftKings
DraftKings Sportsbook allows you to set daily, weekly, or monthly limits on the amount you can deposit to encourage responsible gambling.
The primary depositing requirement on DraftKings is that your payment method is registered in your name. If it is not, DraftKings will consider your winnings invalid and may even close your account.
DraftKings supports the following deposit methods:
Online banking
Credit and debit cards (Visa, MasterCard, Discover, or American Express)
Electronic gift cards (Visa, MasterCard, Discover, or American Express gift cards)
DraftKings gift card
Play+ prepaid card
Cash
VIP preferred
Wire transfer
Withdrawing on DraftKings
When making a withdrawal, DraftKings may ask you to verify your identity if you have not already done so while making your first deposit.
Note that the sportsbook does not allow you to withdraw bonuses or promotional credits. You can only withdraw the winnings earned on bets made with bonuses.
Once your withdrawal is complete, DraftKings will send you a confirmation email with the subject line "Your withdrawal has successfully been processed."
DraftKings supports the following withdrawal methods:
Online banking
PayPal
VIP Preferred e-check
Play+ Prepaid Card
Wire
Cage
Checks
Is DraftKings Sportsbook Betting Legal in Pennsylvania?
DraftKings Sportsbook Pennsylvania is regulated by the Pennsylvania Gaming Control Board, which approved the launch of its operations on November 4, 2019.
You can bet freely on DraftKings Sportsbook PA if you are 21 or older and reside in or visit the Keystone state.
For those visiting Pennsylvania from another state, the DraftKings Sportsbook app detects the location change and automatically switches to displaying games available to Pennsylvania residents.
You can learn more about DraftKings Sportsbook PA's licensing on the Pennsylvania Gaming Control Board website.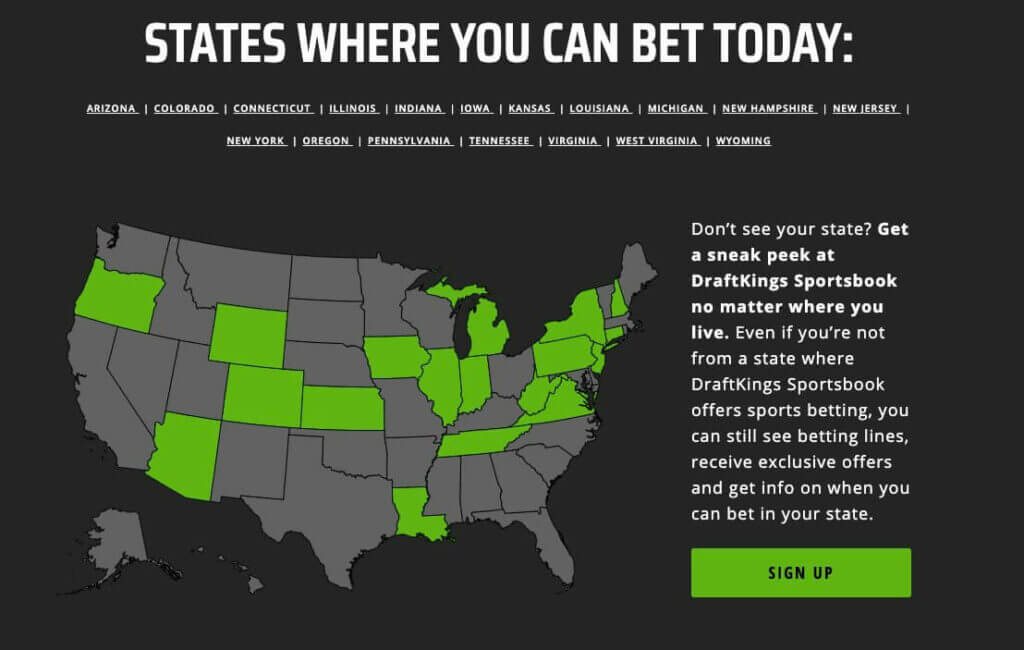 What Sports Can You Bet on at DraftKings Sportsbook PA?
DraftKings Sportsbook offers its users betting options in all the major sports markets. So if you love football, soccer, basketball, baseball, cricket, golf, motorsports, and more, you will find numerous betting opportunities on the sportsbook.
However, you are more likely to find outstanding betting opportunities in the leagues listed under "Popular" in the side menu.
NFL Sports Betting
The NFL is the number one league in the U.S. So it is no surprise that it is the most popular betting category on DraftKings Sportsbook PA.
There are many attractive betting options for NFL League games. DraftKings has a section at the bottom of the NFL league page with articles analyzing the week's top games to provide bettors with insights to make informed decisions.
NHL Sports Betting
DraftKings offers many lucrative betting opportunities on various NHL games. If you are having problems finding the top games, scroll to the bottom of the NHL page to find articles curated by DraftKings' content team listing the best NHL bets available on the sportsbook.
Other Sports Betting Categories
DraftKings offers games in various sports and leagues for you to wager on. Apart from the two we have mentioned, you can also wager on College Football, MLB, NBA, ATP – Stockholm, English Premier League, and WTA – Rouen, to mention a few.
DraftKings Sportsbook App – How Good Is the Sportsbook App?
The DraftKings Sportsbook app has outstanding features that replicate the desktop experience. The DraftKings Sportsbook app is available on both Android and iOS.
You can find it by searching the app stores on both platforms or using links on the DraftKings website. The DraftKings Sportsbook app has a 4.6-star rating on Google Play (from 39,500 reviews) and a 4.8-star rating on the Apple AppStore (from 390,800 reviews).
Once you complete the login or registration process, you will notice that the DraftKings Sportsbook app has the same intuitive and easy-to-use features as the desktop website but is optimized for mobile.
Like other sportsbook mobile apps, the DraftKings Sportsbook app uses geolocation technology to ensure bettors are within the states where the sportsbook is authorised to operate.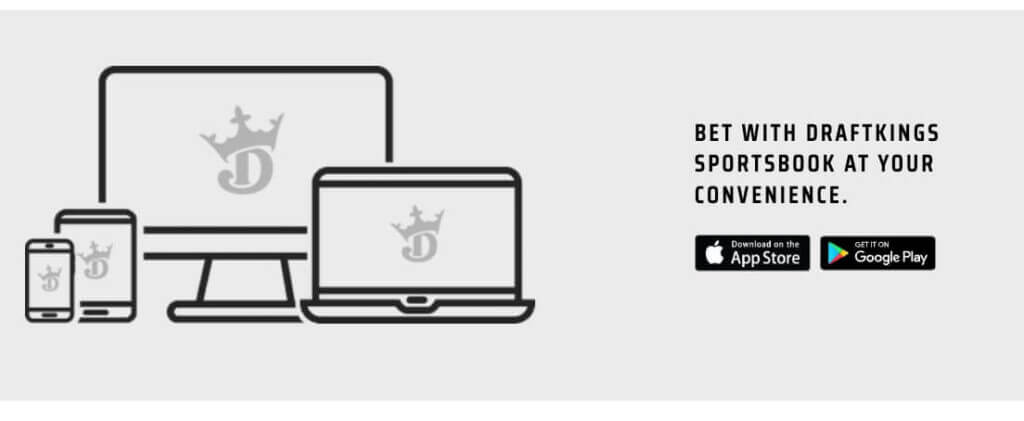 Live Betting at DraftKings Sportsbook PA
DraftKings Sportsbook PA offers live betting on many games. You can find the available games on the "Live In-Game" page.
You will find live games from most major leagues. Even minor sports like Snooker have live games you can wager on.
However, DraftKings Sportsbook PA does not provide live video/simulation streaming. Instead, it provides a live game feed using stats and charts.
Most Common Live Bets Types
The following types of live bets are the most common on DraftKings Sportsbook:
Moneyline
Point winner
Game by game
Live set winner
Spread
Total Set
DraftKings Customer Service
DraftKings has a comprehensive Help Center with answers to common questions and solutions to common challenges.
However, if you have a peculiar problem and need to contact DraftKings customer service directly, you can submit a form with details on the issue you are facing and wait for a reply.
On the other hand, you can use the live chat feature to chat with the DraftKings customer service bot. It will link relevant articles on whatever issues you are having or allow you to "Get in Touch" with support by leaving a message.
Additional ways to contact DraftKings customer service are:
Twitter: @DK_Assist
DraftKings customer service Email: [email protected]
Request a callback by submitting a form
Leave a voicemail: 1 (855) 357-2377
DraftKings customer service mailing address: DraftKings Customer Support. 222 Berkeley St, Boston, MA 02116
DraftKings Review Conclusion
DraftKings Sportsbook PA offers outstanding betting opportunities accessible through the DraftKings betting site and the DraftKings Sportsbook app.
The sportsbook offers a very attractive welcome bonus for PA residents which can be claimed with the DraftKings promo code "WIN". But there are stringent requirements to claiming the bonus. Which should be no surprise since DraftKings Sportsbook PA is essentially giving you free money.
You will quickly adapt to using the platform's features because it is easy to understand and navigate. And if you have any challenges, you will find a comprehensive list of questions and answers in the help center, or you can contact DraftKings customer service using any available options.
DraftKings Sportsbook PA offers a solid live betting experience. Although it is held back by the lack of live streaming options, the live game feed and attractive odds compensate for it and improve an already superb betting experience.