Unibet PA review
Unibet PA is an online betting site in Pennsylvania and New Jersey. After launching in both states during the fall of 2019, this is one of the newest major online betting sites to enter the market.
However, Unibet is a highly experienced brand. It's operated in Europe since 1997.
This betting site is partnered with Mohegan Sun and is something of sports betting purist's dream. There are no flashy gimmicks and nothing fancy. It's all about sports.
So has Unibet managed to make up the ground on its established competitors in just a few years?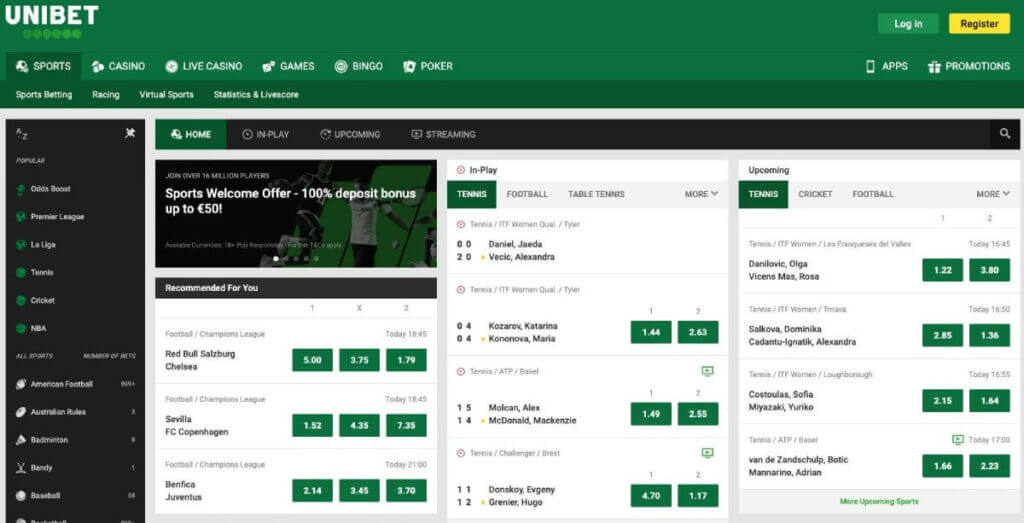 Unibet PA Welcome Bonus – No sweat first bet up to 500$
If you look at the bonuses Unibet PA offers and focus on the numbers exclusively you might think that this is a pretty poor welcome package, but, really, they're offering money for nothing.
There are multiple parts of the welcome bonus, which makes it a highly lucrative package. To find out more about the latest welcome bonuses click on the 'Promo & Offers' page on the Unibet sportsbook website.
Welcome Bonus #1 – The moneymaker
The second part of the welcome bonus is a risk-free bet worth up to $500. This is triggered after you make your first deposit and after you place your first real cash bet.
If you win the bet, you get to keep the money. If you lose, the free bet amount will be credited to your account. It can be as low as $10 or as high as $500. It all depends on how much you wager on your first real cash bet.
The free bet will be credited to your account within 72 hours. Please remember that you need to wager the bonus 1x in 30 days, or the Free Bet will be cancelled.

Example: This means that if you bet $100 and lose, you get $100 in bonus money on you account. This amount will have to be wagered one time to convert to real money that can be withdrawn. You can either make one bet with $100 or for example bet $20 x 5.
These one or more bets must have at least -300 in odds to count.
Unibet Sportsbook PA Offers – Get Three Profit Boosts Every Week
Unibet Sportsbook in PA has a decent selection of ongoing offers. However, they are smaller in number when compared to other sportsbooks in the state. If taken advantage of regularly, you can build up a lot of extra dollars.
Click on the 'Promo & Offers' page to get the latest on the ongoing offers at Unibet.
Promotions Currently Available at Unibet Sportsbook

Unibet Sportsbook in Pennsylvania restricts the majority of its promotions to the four major American sports (football, baseball, basketball, and Hockey). While it would be nice to see some variation, these offers are still worth taking advantage of.
If you want to know more about their current offers, visit the Unibet promotions page now.
Get Three Profit Boosts Every Week
The profit boost is something that's not always offered by sportsbooks. Unibet chooses three different events every week and boosts the odds by up to 50%. The boost is rarely more than $25, though.
This offer will boost the odds on specific games and bets, so instead of +200 you may be getting +300 with the same stake.
Standalone NFL games are particular favorites for this type of offer.
Get a Weekly Parlay Boost
Your first parlay of the week will receive a big boost if it wins. Each week they'll boost all winning parlays that have between three and five selections. The price needs to be -500 or higher, though.
A three-way parlay will receive a 10% boost, whereas a five-way parlay will give you a 30% boost if it wins.
This may seem modest, but it's still a competitive parlay boost. Again, there are no wagering requirements on any bonus money.
Unibet Sportsbook VIP Program in Pennsylvania
Unfortunately, European sportsbooks are not known for rolling out loyalty programs to its existing players. Unibet is no exception and currently offers no VIP program.
Although it would be nice to see some sort of VIP program for players to take advantage of in the future, Unibet Sportsbook in Pennsylvania has made no comment regarding one. We think that it's because Unibet really focuses on responsible gaming. And VIP programs often counteract that.
For us, this is a big plus, and we think every sportsbook should focus on responsible gaming.
Sports Markets
Unibet PA covers a wide selection of different sports markets. For gamblers in Pennsylvania, however, there are more restrictive rules regarding what you can bet on. Within Pennsylvania, sportsbooks are unable to offer lines on high school and amateur sports.
NBA Sports Betting
The NBA is heavily catered to at Unibet Sportsbook in Pennsylvania. You'll find that many of their existing offers pertain to the NBA. There are some extremely low vig amounts on games. Plus, pricing is generally competitive.
You'll find it easy to switch between live markets, pre-game wagers, and futures odds markets. Just click or scroll and you'll find your market of choice.
NCAAB and international basketball events are available to bet on with Unibet.
NFL Sports Betting
The NFL is perhaps the favorite of Unibet, and by far the most popular sport to bet on. A lot of profit boosts are exclusive to NFL games. In the middle of the season, players will find lots of offers on both team and individual markets.
Plus, if you love college and Canadian football, these markets are also available at Unibet.
Other Sports Betting Markets
Unibet has a modest number of sports you can bet on. Naturally, you'll find baseball and ice hockey markets during their respective seasons. You'll also find a range of motorsport betting available, such as NASCAR and Formula One.
There are even some international sports available to bet on, including professional darts and rugby union/league.
Live Betting
Unibet Sportsbook in Pennsylvania has utilized all of its experience from Europe to provide one of the best live betting facilities in the whole state. It's incredibly active, with even minor games coming with a variety of live betting markets.
Most games have live betting options and it couldn't be easier to place a live bet. Live betting is smooth and play-by-play prices are reasonable.
If you love live betting, Unibet in PA is one of the strongest offerings you'll find.
Withdraw & Deposit
Before you create an account with an online sportsbook in PA, you should be aware of the different payment methods available. You want to make sure that not only are your favorite payment methods available but that you won't run into any problems making deposits and withdrawals.
Banking with Unibet Sportsbook
Unibet Sportsbook in Pennsylvania offers a limited number of banking options. All transactions are processed in USD and the minimum deposit/withdrawal is $10.
By far, the most convenient method for banking is PayPal. There are no restrictions on deposits and withdrawals, and approval is guaranteed. Although you can use a credit/debit card, the majority of US banks in Pennsylvania still won't process transactions that involve gambling companies.
It's also possible to use an e-check or an online banking transfer, but this will take up to 24 hours, so you shouldn't expect the money to appear immediately in your account.
If you happen to live near the Mohegan Sun Pocono Racetrack, you also have the option of depositing and withdrawing in cash. This process is instant, and approval is guaranteed.
Payment Methods
Here are the main payment methods open to you:
Credit/debit cards.
PayPal.
Online bank transfer.
E-checks.
7-Eleven PayNearMe.
Cash at the Mohegan Sun Pocono Racetrack.
Despite the small number of payment methods available, the majority of banking options have high approval rates. As long as you don't run into any trouble with your bank, deposits and withdrawals should be seamless.
| | | | | | |
| --- | --- | --- | --- | --- | --- |
| Payment Method | Type | Minimum Deposit | Maximum Deposit | Average Deposit Time | Average Withdrawal Time |
| PayPal | eWallet | $10 | N/A | Instant | Within minutes |
| Credit Card | Visa/MasterCard | $10 | N/A | Instant | N/A |
| PayNearMe | 7-Eleven | $10 | N/A | Instant | N/A |
| eChecks | — | $10 | N/A | Instant | 24 hours |
| Online bank transfer | — | $10 | N/A | Instant | 24 hours |
| Cash at Casino Cage | Mohegan Sun Pocono Racetrack | $10 | N/A | Instant | Instant |
Types of Bets with Unibet Sportsbook
There is a range of different bets you can make when you play with Unibet. These bets offer some variation in your play and have the potential to come with big payouts.
Here are some of the most common types of bets you can make at Unibet.
Moneyline Bet
The simple moneyline bet, which is also known as a 'win bet' is an incredibly simple type of bet. You bet on a specific outcome and if it happens you win.
In major American team sports, there's typically little value in these moneyline bets. They're a great way for new players to get started with sports betting, though.
Point Spread
The point spread bet is a way of making even the most mundane match exciting. In a game, the favorite will receive a handicap. You're betting on whether they'll 'cover the spread'. In other words, you're betting on whether they'll overcome their handicap.
For example, if the New Orleans Saints have a handicap of +7 that means at the start of the game that team has a seven-point advantage, in betting terms. For bets on the Saints to win, they need to win by more than seven points.
Parlay Bet
A parlay is a type of exotic bet that comes with big payouts if they win. The concept is simple. You bet on multiple matches/markets and every leg has to win in order for you to win the parlay. The more legs the higher the payout and the lower the chance of victory.
The stake from each winning leg goes onto the next leg, thus building up the parlay the longer it survives. These are exciting bets and often come with big price boosts because they're so difficult to win.
Futures Bet
A futures bet is a normal bet but based on something in the future. It's different from a pre-game wager because it typically focuses on a specific outcome that could be months away (or even years) from when the bet was made.
The most common type futures bet is a pre-season wager on which team will win the world championship at the end of the year. You may also bet on the player who will win the league MVP award for that year.
Site Features and User Experience
Accessing the desktop platform is as simple as landing on the homepage and visiting the 'Sports' section. The layout of the sports betting platform at Unibet is basic but incredibly functional.
On the homepage, you'll spot the top games of the day and the week. There's also a selection of live games. The left-hand menu allows you to navigate to any sport you like, whereas the search feature can be used to hunt down specific teams and events.
Once you place a bet, your betting slip at the bottom of the screen will pop up. Just type in how much you want to bet and then you're good to go. It's that easy to place a bet!
Overall, this is a purist's dream when it comes to sports betting. There are no silly gimmicks and no invasive graphics. You've got everything you need, and it couldn't be simpler to place the bets you want.
Mobile Sportsbook App
The Unibet Sportsbook app is almost a complete carbon copy of the desktop platform. Although the app is clearly designed with mobile screens in mind, you'll find all the same features on the app as you would on the desktop site.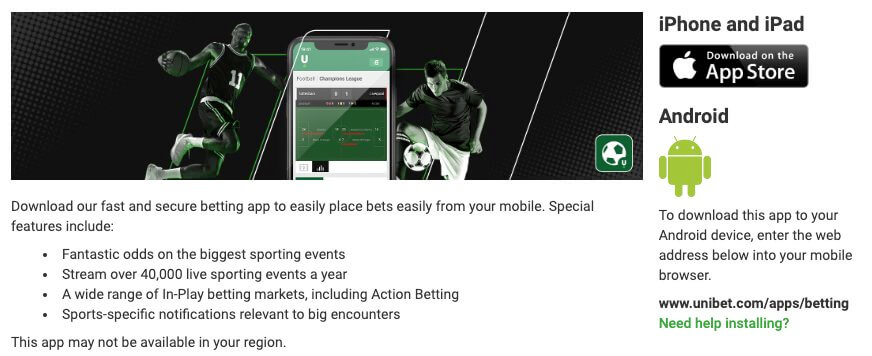 The app is available for both iOS and Android. The Android version of the app is perfect and comes with the same simplicity and practicality as the desktop site. There are no annoying popups or silly graphics! While the iOS app doesn't perform quite as well as the Android version, players will still be able to access the same features as on desktop.
Customer Support
Unibet has a number of ways in which you can contact them. All you need to do is click the "Help and Info" button in the top right corner of the page. You'll be directed to an FAQ section where you can find the helpline number and Unibet email underneath.
How to Contact Unibet Sportsbook
Unibet Sportsbook in PA has a number of ways in which to contact them. The easiest way is to use the live chat system. All you need to do is click on the window at the bottom of the screen and you'll be connected to an agent within a couple of seconds. Even at times of high traffic, it's not difficult to find an agent within a couple of minutes.
Alternatively, you can send them an email at [email protected]. You'll usually receive a response within 24 hours. Make sure you have as much detail as possible to give you a higher chance of getting a useful response.
Finally, you can contact Unibet Sportsbook by calling them at 877-286-5303. Like all other customer service options, they operate from 8 am to 11 pm EST.
The only problem with Unibet Sportsbook in PA is they don't possess 24/7 customer support. This is something that Unibet lacks when compared to many of its competitors.
Registration with Unibet Sportsbook
Unibet Sportsbook makes it easy to register an account with them. Just click the big green 'Registration' button at the top of the screen and you'll be taken to the registration page.
You'll be required to enter a number of pieces of personal information. It's necessary to include your name, address, phone number, and the last four digits of your Social Security number. Unibet is required to maintain this information in order to confirm your identity.
Once you've entered all the necessary information, you'll need to make sure you visit your email inbox. Unibet will send you an email with a verification link. Click on this link and your account will be ready to bet with.
Take note, when you attempt to make your first withdrawal you'll be required to confirm your identity. Grab a photo of a piece of a government-issued photo ID and send it to them. It must be a high-quality photo and should clearly display your information.
This can take anywhere from 24 to 72 hours to confirm. You'll only need to complete this process once.
Responsible Gambling
Unibet Sportsbook in Pennsylvania is fully committed to providing an environment for responsible gambling. You'll find a dedicated page with lots of helpful links for those who feel like their sports betting habits have become a problem.
There are also a number of tools available for you to control your gambling. You can set deposit limits, which, when reached, will prevent you from making any further deposits or placing any more bets until your limits have been refreshed.
You'll also have the option to opt for self-exclusion. This is a process by which you'll voluntarily request your account to be suspended. It's a great way to take a break from the platform.
Self-exclusion orders cannot be lifted once they're in place under any circumstances.
How to Delete an Account with Unibet Sportsbook
All sportsbooks in Pennsylvania are required to make it easy for customers to leave the platform permanently at any time.
Just send the customer support team a message. For the fastest results, it's best to call them. You don't need to tell them why you want to delete your account and they won't ask you either. Ensure you've removed any existing funds from the platform first.
Unibet will delete your account within 24 hours. This is a permanent move and you won't be able to recover your account at a later date if you choose to come back.
Security, Privacy, and Fair Play Guaranteed
Players don't have to worry when it comes to entering their personal details on the website. The site has a 128-bit encryption present, which is an extremely secure form of encryption. It's the same type of encryption used by banks and other financial institutions.
Unibet also promises not to sell or share your data with any third-party organization without your express permission. This is clearly outlined as part of their comprehensive privacy policy, which you can read about on the website.
Finally, Unibet is regularly audited to ensure they adhere to the principles and rules of fair play. You'll always get fair prices and fair bets whenever you play with this sportsbook. Furthermore, they have a fair play policy on the website you can read to find out more.
Unibet Sportsbook: Our Conclusion
If you don't care about fancy graphics or anything fancy, Unibet PA Sportsbook in Pennsylvania is the sportsbook for you. Right now, they have one of the most impressive welcome bonuses in the business.
Although there are a few problems with the iOS mobile app, the overall platform is about as close to a complete sportsbook as you can get.
Unibet PA comes highly recommended for players who are serious about their sports betting experience.