FanDuel Sportsbook PA Review
FanDuel Sportsbook PA was launched in March 2019, and the launch was followed by the launch of FanDuel's online casino in June 2020.
FanDuel Sportsbook has a simple and intuitive interface, various betting options, and an exceptional betting app, providing an enhanced betting experience for FanDuel users.
In this FanDuel review, we will explore FanDuel Sportsbook PA to determine how it works, what betting options it has, how good the sportsbook app is, and the overall experience you can look forward to.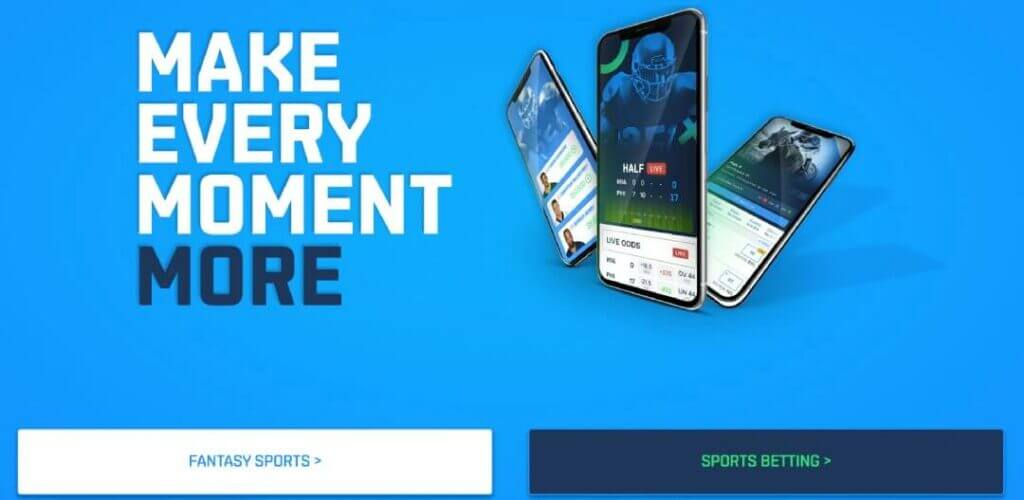 FanDuel Sportsbook Pa: Welcome Bonus
Like most betting sites today, FanDuel Sportsbook in Pennsylvania offers new users a welcome bonus to reward them for joining the platform and to allow them to explore the platform's features with reduced risk.
To claim the welcome bonus, you don't need a FanDuel Sportsbook promo code. Just choose your bonus at registration.
When you register an account on FanDuel Sportsbook in Philly and bet $5. you immediately get $150 in Bonus Bets no matter if you win or lose!
However, it is important to note that you cannot withdraw the bonus bet. You can only use it to place bets within 14 days and then withdraw the winnings made using the bonus bet. After 14 days, the bonus bet will expire and become unusable.
FanDuel Sportsbook Review
FanDuel Sportsbook is a reputable sport betting brand that offers users various sports to bet on and a diverse range of betting options.
The website and mobile app have pleasant interfaces, and users will find it easy to navigate around the website to discover betting opportunities and options they can capitalize on.
When you use the app and website extensively, you notice that a great deal of effort has been put into making the design intuitive. Everything seems to have been placed intentionally.
A well-paced menu above the header makes navigating from the sportsbook to the casino, fantasy platform, or Racebook easy. Buttons leading to "Home," "Bets," "Promotions," "Notification Center," and "Profile" on the header menu make it easy to navigate between the pages users spend most of their time on.
The main page is divided into three sections. In the left corner is a side menu containing a list of the "Popular" sports people bet on, and beneath it is a list of "All Sports" you can bet on.
The middle of the page displays a feed of available games and leagues users can bet on such as:
As the user scrolls down the feed, it automatically switches between the leagues and provides more details on the available games.
The right side of the screen is occupied by a tab displaying the user's betting slip. This is one of the features that make FanDuel Sportsbook so intuitive.
While some other platforms require the user to navigate to an entirely different page to access their betting slip, with FanDuel Sportsbook, you get instant updates on the main page. You can review your slip and make any necessary adjustments instantly.
Key features of FanDuel Sportsbook include Live betting, Live streaming, and Same-game parlays. FanDuel Sportsbook also offers new and existing users various bonuses alongside the signup/welcome bonus.
FanDuel Betting Options
FanDuel Sportsbook has the same betting options as other betting sites, such as spread, Moneyline, parlays, teasers, round robins, total, and alternate lines. All betting options and features on the site can easily be found using the "Search" button in the header menu, which is represented by a magnifying glass.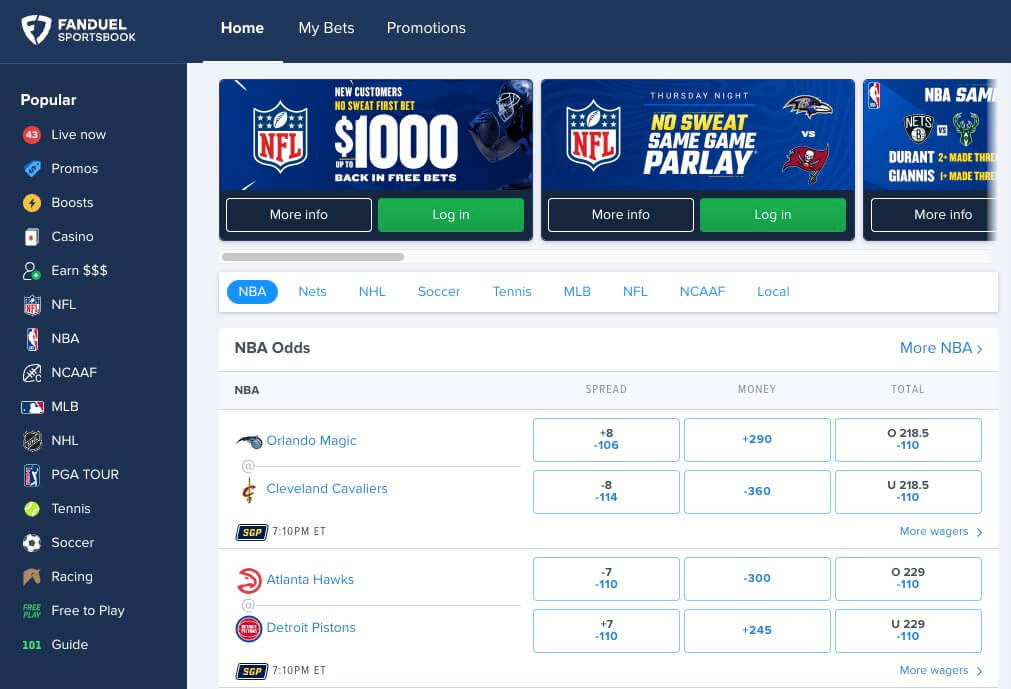 FanDuel Deposits and Withdrawals
It is fairly easy to deposit and withdraw on the platform. You can make a deposit using the usual payment methods, such as PayPal, ACH, Visa, and Mastercard – in fact, FanDuel is one of the best PayPal betting sites in the U.S. You can automate payments using these methods to simplify the process of making deposits.
Withdrawals on FanDuel Sportsbook are also straightforward. To make a withdrawal you can use the following:
Online Banking
A debit card
Venmo
PayPal
FanDuel prepaid play+
Check
Cash at the counter at any physical FanDuel location
Withdrawals typically take 24 hours to complete, but bank processing times could extend the timeframe to a few business days.
Is FanDuel Sportsbook Legal in Pennsylvania?
FanDuel Sportsbook's operation in Pennsylvania is legal but somewhat complicated. Unlike other states where brands can apply for a gaming license, Pennsylvania requires them to partner with a licensed operator to launch their services to persons within state lines.
FanDuel Group, the company behind FanDuel Sportsbook PA, is in partnership with Valley Forge Casino Resort, which is licensed and regulated by the Pennsylvania Gaming Control Board.
What Sports Can You Bet on at FanDuel Sportsbook PA?
FanDuel Sportsbook PA supports betting on the following sports:
Aussie Rules
Baseball
Boxing
Cricket
Cycling
Darts
Football
Golf
Ice Hockey
MMA
Motorsport
Rugby League
Rugby Union
Tennis
FanDuel Sportsbook App: How Good Is It?
The FanDuel Sportsbook app is available for Android on Google Play Store (4.7-star rating from 111,000 reviews) and iOS on the Apple AppStore (4.8-star rating from 618,300 reviews).
The FanDuel Sportsbook App is one of the most advanced sportsbook betting apps out there because of FanDuel's mobile-first philosophy, which guides its platform design decisions.
The app has various features that give users a similar experience to using the website, such as in-app access to a comprehensive list of sports and markets and the ability to place live bets and watch live streams of matches within the app.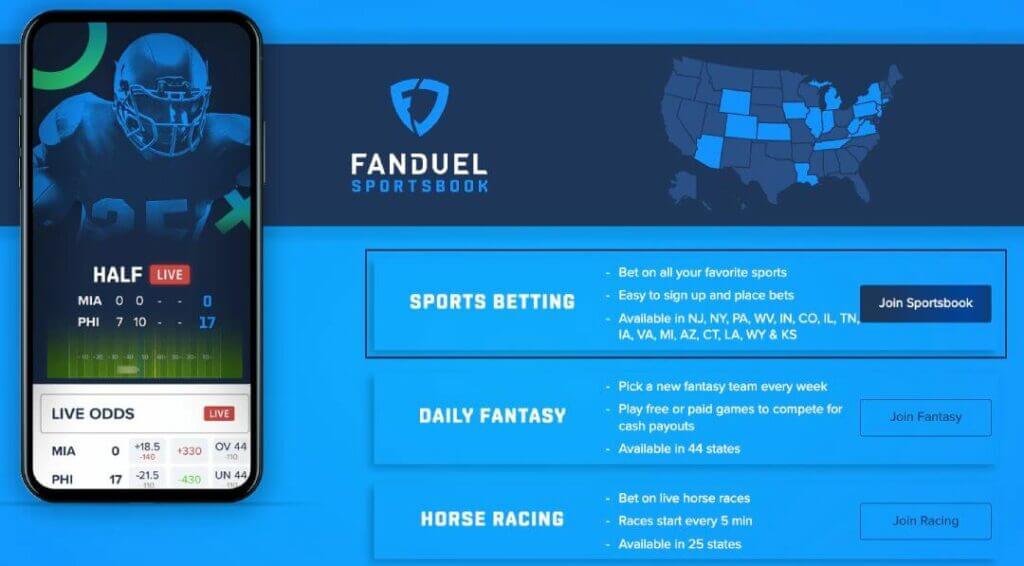 The FanDuel Sportsbook app is speedy and reliable if you have a strong internet connection, features a simple and clean aesthetic like the website, is intuitive, and has an accurate geolocator that eliminates the fear of getting locked out of your account, even when you're in a state in which FanDuel operates.
Live Betting at FanDuel Sportsbook
FanDuel Sportsbook PA offers various live betting options. While reviewing the website, the following sports were available for live betting:
Each game offered different streaming options:
Live video: Direct video from supported events
Game view: Simple animated video illustrating the movement of the ball on the pitch
Game stats: Key statistics and commentary from the game
FanDuel Sportsbook users have access to various live betting options that fall under the several categories – Popular, Goals, Team props, Half, 4th Quarter, and Alternates, to mention a few.
The prop options available during the game are typically the same as those available pre-game. However, in the games we played, FanDuel did not support the live ticket option, which allows users to cash out bets during the game.
FanDuel Sportsbook PA Customer service
Fast and reliable customer service is important in the betting industry because things happen quickly. Users need their issues resolved instantly to avoid barriers to capitalizing on betting opportunities.
In our experience, the customer service at FanDuel Sportsbook ticks all the boxes. The FAQ section contains a comprehensive list of common questions users might have, with straightforward answers and screenshots to provide visual aid and simplify the process of helping the user find what they're looking for, or to solve a problem they're facing.
In our experience, the help and support section need not be consulted only when you need help with something – through browsing the FAQs we discovered platform features we didn't even know about!
If for whatever reason you can't find a solution in the FAQ section or you prefer to discuss with a representative. Then FanDuel Sportsbook PA offers a Live Chat function that should help you get the help you need.
The Live Chat feature is promoted as being available 24/7, but we cannot say for sure if that is the case in reality. You can also contact FanDuel Sportsbook by submitting a ticket, which FanDuel says will be responded to within 24 hours. At the time of writing, there is no support for phone calls.
Conclusion
FanDuel Sportsbook PA features a simple, modern, and intuitive interface that simplifies the onboarding process for new users. It has various features that enhance the everyday online betting experience, so it is no surprise that FanDuel Sportsbook is constantly ranked among the top betting sites in the U.S.
It covers various sports and sporting leagues, provides an exceptional live betting experience. Further, it has a mobile app that sits at the platform's center and provides a similar experience to the desktop website.
All bettors have different needs, so it is impossible to say FanDuel Sportsbook PA is the ideal platform for everyone. However, it provides enough sports, options, features, ease-of-use, and withdrawal/deposit methods to meet the needs of the average bettor.