BetMGM PA Sportsbook Review
BetMGM PA Sportsbook offers Pennsylvania gamblers various games and leagues to bet on, attractive bonuses and promotions, and competitive odds. All of which, combine with the intelligent design, features of its website and app to create an outstanding experience for bettors in Pennsylvania.
This BetMGM review will look at the bonuses available on BetMGM, the available games and overall betting experience, and what you can expect while betting on BetMGM Sportsbook in PA.
BetMGM PA Sportsbook Welcome Bonus
On signing up with BetMGM Sportsbook in Pennsylvania, you get a First Bet Offer: get up to $1000 paid back in Bonus Bets if you don't win. This means that after signing up, when you make a deposit and place a bet, you will get a 100% refund of up to $1,000 if you lose your first bet. However, if you win, the bonus will not affect your winnings.
It is important to note that the bonus amount cannot be withdrawn. So, if you think you can cut your losses by withdrawing the bonus amount and going elsewhere, you will be disappointed.
The bonus can only be used to place subsequent bets on the BetMGM Sportsbook platform, and if you win money with it, you can withdraw the profit from the bonus.
When the bonus expires, you will no longer be able to use the bonus amount. Make sure you take note of the expiry date of the bonus so you can use it as many times as possible to maximize your profit from the bet credit.
In addition, if your first bet is over $50, BetMGM PA will pay out the bonus amount in five separate deposits. Finally, you don't need a BetMGM promo code to claim the welcome bonus.
BetMGM Site Features and User Experience
The desktop platform has a clean and simple interface with an intuitive and intelligent design. Despite having a simple design scheme, the platform still has a touch of luxury.
Upon loading the desktop website and logging into your account, you will be directed to the hompage, which contains the following:
A carousel containing available promotions you can leverage to boost your profits
A list of weekly specials
A list of available games to wager on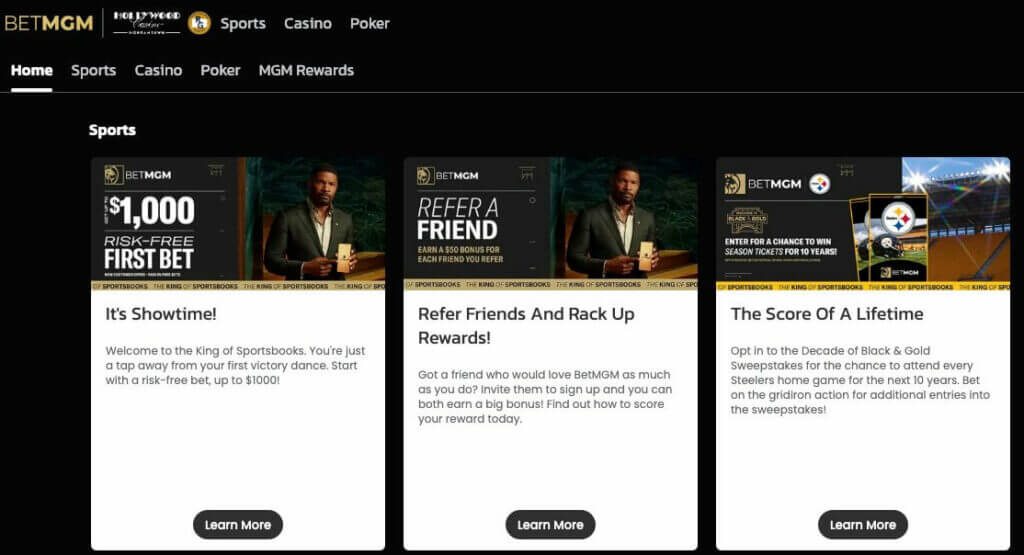 On the homepage, you can access the live betting page to find available games, check a list of your favorite sports and teams, and load your profile using buttons on the header menu.
The left-hand menu contains links to the top sports on BetMGM Sportsbook and a comprehensive list of all sports available on the platform so you can easily find the sports and teams you like.
The center of the homepage contains a feed with details on games you can wager on from various sports and leagues. If you find a game you like, your betting slip is on the right-hand menu, so you can instantly place your wager without leaving the homepage.
There are also live streaming options on the right-hand menu, so if the game you want to wager on is being played live, you can watch the live stream and consult the game stats to make an educated decision.
BetMGM Sportsbook in Pennsylvania offers a robust live betting experience. Live betting features are activated once the game starts, and you can secure your wins or reduce your losses using the cash-out function if available.
You can use the "Edit My Bet" feature to add a selection, remove a selection, swap a selection, or increase your stake after you place your bet.
BetMGM PA Sportsbook Betting Options
BetMGM PA offers standard betting options, such as:
Moneylines
Point totals
Spreads and alternate spreads
Player and team props
Exact scores
Winning margins
Parlays
Futures: Where available, you can bet on future events, such as who will win the Super Bowl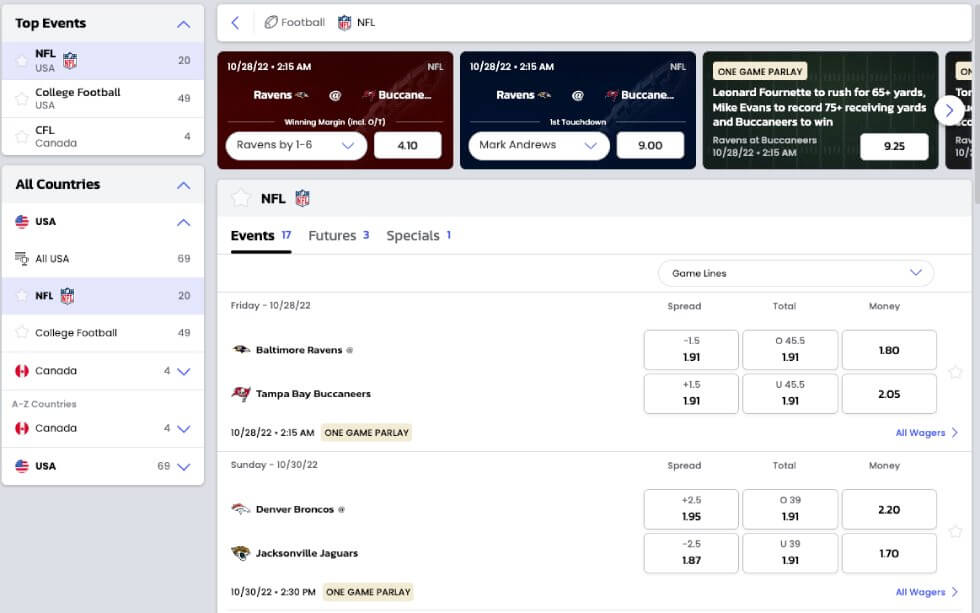 BetMGM Sportsbook Deposits and Withdrawals
Depositing and withdrawing from BetMGM Sportsbook in Pennsylvania is an easy process. The sportsbook supports:
Debit and credit cards
A branded Play+ card
PayPal
ACH
Bank transfers
Withdrawal is also a straightforward process. However, it can take up to 5/7 days in some cases for the withdrawal to be processed.
BetMGM Sportsbook does not charge a withdrawal fee, but your payment service provider may charge a fee to receive funds from BetMGM.
BetMGM withdrawal options include:
Play+
echeck
Skrill
Bank transfers
Is BetMGM Betting Legal in Pennsylvania?
Online sports betting is legal in Pennsylvania. BetMGM is licensed and regulated by the Pennsylvania Gaming Control Board, alongside four other online sportsbooks.
However, you must be at least 21 to engage in online sports betting.
What sports can you bet on at BetMGM PA?
BetMGM Sportsbook has various games and leagues you can bet on, regardless of which leagues or teams you are interested in.
You can easily access games within any of the leagues by reviewing the list of games on the home screen, placing your wager directly from the home screen, or checking the banner to find popular parlays for upcoming games.
The following is a comprehensive list of the sports available on the BetMGM platform:
Boxing
Cricket
Cycling
Darts
Handball
Lacrosse
MMA
NASCAR
Rugby League
Rugby Union
Snooker
Tennis
Volleyball
Each sport available on the platform has various sub-segments for you to explore. For example, Football has two countries listed on the menu on the left side of the screen:
Under United States, you can explore the "All USA" section to see all available games, or you can pick from:
NFL – Specials
NFL Parlays
BetMGM Sportsbook App – how good is it?
The BetMGM Sportsbook app is available on Android and iOS. The app has also implemented an intelligent design, a simple and intuitive interface, and easy-to-use navigation.
The app features menu options at the top and bottom of the screen to help users easily navigate and access the available features to place bets and keep track of ongoing bets.
The top features of the app are as follows:
Notifications: This feature keeps you updated on games, bets, and other events on the platform
Live Betting: The BetMGM app feature allows you to wager on games while they are ongoing
BetMGM Sportsbook Daily Boosted Bets: The daily boosted bets feature allows you to leverage boosted odds to increase your winnings
Live betting at BetMGM Sportsbook
BetMGM Sportsbook in PA offers live betting options to add more excitement to the game. The sportsbook allows you to bet live on various games throughout the season, so you are sure to find a game you'd like to wager on with live betting options.
BetMGM allows you to place live bets from the beginning of the game through to the end, and you can use the event pages and live streaming features to track how your bet is performing.
Live betting features are usually available after kickoff, spread, Moneyline, over/under total, and other pregame odds are locked.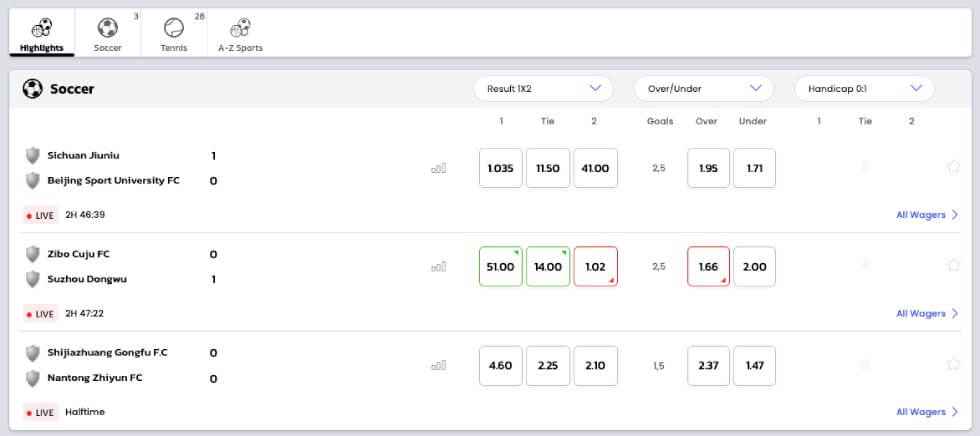 They are typically used by bettors who couldn't place a bet pregame, want to take advantage of better live betting odds, or want to watch the gameplay for some time before deciding how to bet.
You can access the live betting page using a button labeled "Live Betting" on the header menu. Once there, you can navigate using the "Overview" or "Event View" tabs to find whatever you are looking for.
BetMGM Sportsbook also provides the following media options if you want to stream the game live:
Live streaming: Watch the game through video
Simulation: Simple animation that illustrates what is happening on the pitch and even includes weather conditions
Statistics: Detailed gameplay statistics
BetMGM Sportsbook PA Customer service
Customer service at BetMGM in Pennsylvania meets the industry standard. The platform offers a comprehensive resource center where you can find questions and solutions to many issues and information about upcoming developments.
If the information on the help page is not enough, you can contact support using live chat or email. BetMGM does not support phone calls at the time of writing.
However, BetMGM launched a customer support Twitter handle, @BetMGMSupport, so you can also contact them through an alternative means.
Conclusion
BetMGM Sportsbook in Pennsylvania has experienced rapid growth in popularity and use due in such a short time. Its success can be attributed to its website and app's simplicity and intelligent design.
Bettors on BetMGM PA can enjoy a First Bet Offer where you get up to $1000 paid back in Bonus Bets if you don't win your first bet, and can leverage subsequent promotions to maximize profits.
Live betting features allow bettors to monitor the game through video or simulation and use the Edit My Bet and Cash Out features to make the most of their wager.
All and all, BetMGM Sportsbook in the state of Pennsylvania is an excellent platform, and although it will not satisfy every bettor, we bet that you will find the platform satisfactory.